Girls Getaways
"Unwind and rejuvenate on a girls' getaway"
Escape with your soul sisters
Gather with your lifelong best friends for an annual getaway, celebrate a birthday in style, or bring your book club, wellness group, or craft club along for a unique and memorable experience. Our retreats offer the perfect alternative social option to make lasting memories and deepen your connections. Unwind, relax, and enjoy quality time together in a truly unforgettable setting.
Fun with Friends
From indulgent massages to outdoor pilates classes, SUP yoga and creative art sessions, our getaway offers it all. Relax, rejuvenate, and have a blast with your friends. We take care of everything, from catering to clean-up, so you can focus on making memories. Customize your perfect getaway with our variety of packages designed for a stress-free and enjoyable stay.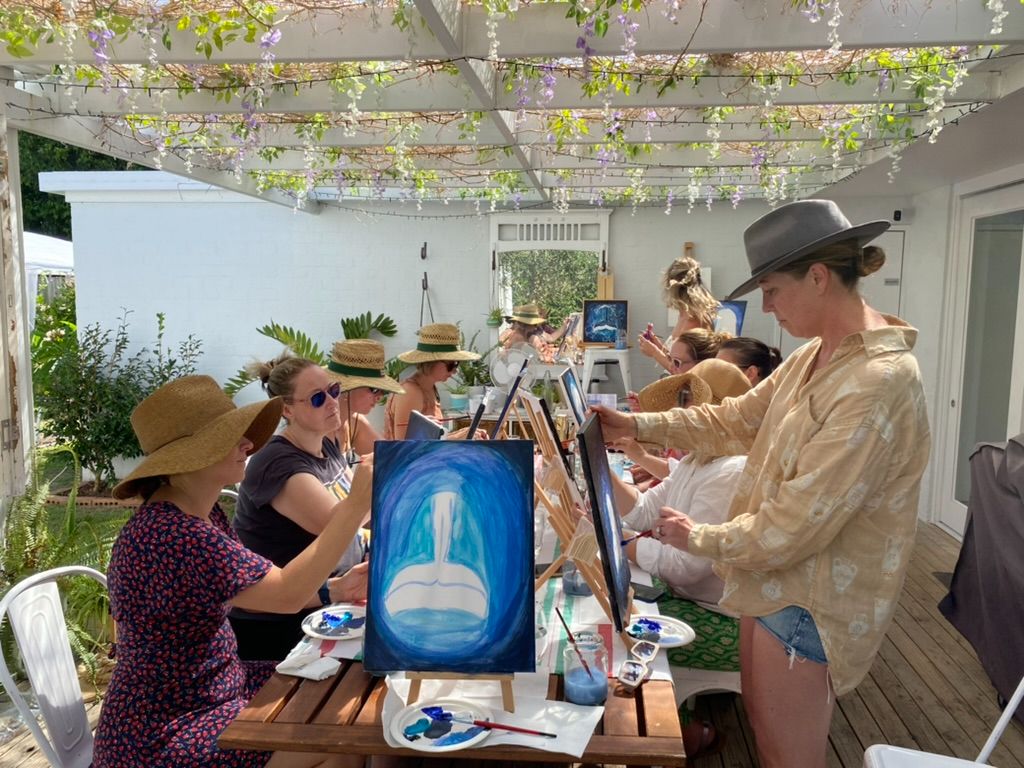 Your Getaway
2-nights Inclusive
@ Brier Beach House
Exclusive small group getaway for 6-10 people. Enjoy a warm welcome with sparkling mimosas and decadent chocolates on arrival. Settle in and enjoy evening nibbles with charcuterie grazing platter.
Immerse Yourself in Endless Entertainment: Movies, books, puzzles, and games await your discovery. Gather around the mesmerizing fire pit for fireside fun. Explore the stunning coastal surroundings with complimentary push bikes and beach equipment. Let the adventure unfold!
Enjoy a stress-free stay with complimentary bed linens, towels, and essential toiletries. Our clean-up service is included, allowing you to unwind and make the most of your time here.
DATE CHECK
Optional Extra Packages...
Enhance your stay with our irresistible add-on group packages, curated to elevate your experience and create lasting memories. Select from our range of enticing options or indulge in them all to make your coastal retreat to perfection.

+ Creative Package: Artist lead Paint-n-Sip; Self-guided creative challenges.
+ Wellness Package: Beach Pilates or SUP Yoga; Body Scrub & Massage.
+ Catering Package: 3 Meal Plan - Breakfast; Lunch; Dinner.
CONTACT HOST TO ADD-ON
Creative Package
Art-Inspired Fun & Relaxation...
$125 per person
Discover Your Inner Picasso with our Paint-n-Sip session: Unleash your creativity with a talented local artist as your guide whilst enjoying a glass of wine. No prior experience necessary - embrace the joy of painting.
Immerse yourself in a world of tranquility as we provide all the necessary supplies for a therapeutic artistic journey during your stay. Relax, unwind, and let your creativity flow freely.
Wellness Package
Nurture your mind, body, and soul...
$200 per person
Connect with nature and find inner peace with a private beach Pilates class or SUP Yoga session at Currimundi Lake. Strengthen your body, improve flexibility, and enjoy the tranquil surroundings with all equipment and a private instructor provided.
Indulge in a rejuvenating 75-minute in-house body scrub and massage to relax your body and rejuvenate your skin.
Catering Package
Professional catering provided by Pacha-Yumma
$150 per person
Embark on a transformative journey of regenerative healing with Pacha Yumma's nourishing plant-based catering. Our dedicated team prepares each meal with love and care in their professional kitchen, delivering them right to your doorstep. Experience a true sense of wellness and abundance as you savor delicious breakfast, lunch, and dinner during your stay.

Accommodation
Escape to our tranquil Sunshine Coast oasis, nestled in the heart of Golden Beach. With 5 bedrooms spread across two buildings, there's ample space for you and your girlfriends to unwind. Enjoy the privacy of multiple living areas and a charming alfresco dining deck, perfect for reconnecting with your besties and indulging in some well-deserved 'me time'.
MORE ACCOM INFO
Register Your Group Today
So pack your bags, grab your girls, and join us for an unforgettable trip!
CONTACT TO BOOK